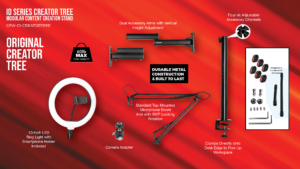 This completely customizable, adjustable set-up allows creators to configure their workspace to their personal preferences. Keep your cameras, lights, mics, and other accessories exactly where you want them with a system that can grow with you.
So much innovation and design have gone into every detail. Regain valuable space by clamping the creator tree directly to your desktop. Mount your phone on the included LED ring light and adjust it to the most flattering angle. A ball-head camera mount with a reversible cold shoe mount will put your camera where you need it. Mounting accessories on the top or the bottom of the extendable arms gives you multiple setup options. Put your microphone at the center of the action with the 360-degree rotating mic boom arm.
Speed and convenience are crucial to getting your content created and posted in a competitive content market. The Creator Tree organizes the vital components of your content creation station, right there within easy reach!